We all have them on our Pinterest boards. Some ridiculous DIY project that looks super-simple and costs like $10 or something. I am no exception. I have been meaning to build my own farmhouse style table for over a year. The main problem is that I don't really have all the appropriate carpentry tools, or any real free time to speak of. So what do I do? Go to Menards and buy all the supplies, come home, look at the instructions, and immediately call my good friend and family carpenter, Jerry Sawyer. So, good bye old Crate and Barrel 1991 table that we all can't fit around... and hello... new table that I built myself. Sort of. I was Jerry's apprentice. The Restoration Hardware dining table that I was lusting for...
Wait, did I mention it starts at $2495? Dollars?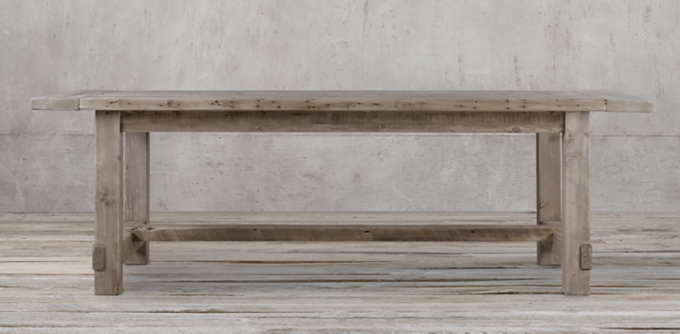 The inspiration via Pinterest. Under $100 in supplies seems to fit a little more snuggly in my budget...
My total for materials at Menards came out to under $70. So, Jerry came over with his bounty of tools and we got to work. With a few helpers.
Apparently Baby Girl likes to snack on sawdust
Little, by little, our new farmhouse style table began to take shape.
And then it is time to perfect the "Restoration Hardware" finish...
Step 1 - I used one coat of Minwax Wood Finish in Jacobean
Step 2 - 2-3 coats of a gray wash (equal parts water, Empire by Valspar, and White Dove by Benjamin Moore enamel paint)
Step 3 - A light sanding revealed the grain and warmth of the wood stain
Step 4 - I applied 5 coats of Minwax Polycrylic in Clear Satin, sanding lightly in between each coat
We all signed our name on the bottom of the table top and dated it...
Project complete!!! Now we have our own custom-built kitchen table that we created as a family, for under $100 might I add! Here we will share many meals, games, tears, memories, and lots of laughs!